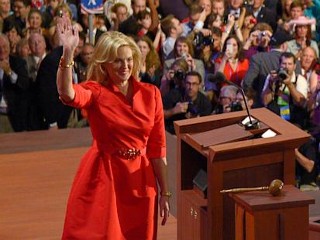 "I spoke to women last night and I wanted women to understand how important this election is for their children, but as I was sitting backstage listening, I thought, it's also very important that the Latino community recognize how important this election is for them," Romney said at the Latino Coalition luncheon Wednesday. "And they are mistaken if they think they are going to be better off with Barack Obama as their president. There really is only one way for prosperity, for small business, and that is, this is the simplest way I can say this: If Mitt Romney wins, America wins."
Romney said her "importance in speaking out is making sure that those coalitions," referring to women and Hispanic voters, "that would naturally be voting for another party wake up and say, You'd better really look at the issues this time."
"You'd better really look at your future and figure out who's going to be the guy that's going to make it better for you and your children, and there is only one answer," Mrs. Romney said, giving a harsher pitch than we usually hear from the woman who wants to be the next first lady.
"It really is a message that would resonate well if they could just get past some of their biases that have been there from the Democratic machines that have made us look like we don't care about this community," Romney said. "And that is not true. We very much care about you and your families and the opportunities that are there for you and your families."
She stressed her immigrant roots, mentioning her grandfather who was a Welsh coalminer, aiming to connect with the Latino audience.
"I know what it's like to be the daughter of immigrants," she said.
Romney praised the First Lady of Puerto Rico Luce Fortuno, who introduced her last night, calling them "kindred spirits."
"What she and her husband are doing on that little island is quite remarkable. You should be so proud," Romney said before her son Craig mentioned that the Gov. Luis Fortuno was actually sitting in the audience.
"Luis! Ola!," Romney said, clearly surprised.
" I had the most rocking time in Puerto Rico at a political rally than I've ever had in my entire life," Romney said. "You people really know how to party. It was crazy!"
Romney added that the trip was a "wonderful chance" to "peak into a culture and a vibrancy and energy, a passion that I saw form that little island that really what represents the best in America."
"It is what you give to that country, a vibrancy, a color, a fabric of family and joy that anyone who is near your community recognizes that and feels it coming from you," Romney said.
She was introduced by her youngest son, Craig. He's fluent in Spanish and often campaigns for his father in this state and has even starred in Spanish language radio and television ads for the campaign.