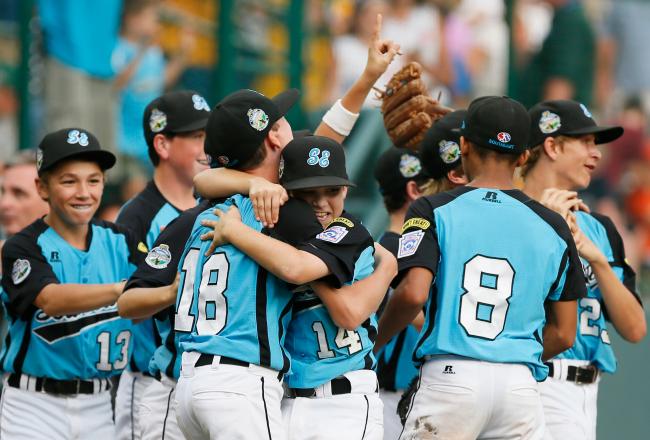 Both Japan and Tennessee have had incredible runs to this point, and both have yet to lose in Williamsport. Making it thus far is something to be proud of, but doing so without losing a game is that much more impressive. It wasn't easy, though.
The championship game on Sunday will be played at Lamade Stadium at 3:00 p.m. ET. The game can be viewed on ABC or online via ESPN3.
Let's take a deeper look at Japan and Tennessee, how they've gotten to this point, which players to watch and who will go back to school as Little League champions.
How They Got Here
Japan
Japan has been the most impressive team in Williamsport this year, featuring deep pitching and outstanding hitting. They won their opening-round game easily over Curacao and then defeated Chinese Taipei in a classic duel. A win over Panama clinched them a berth into the international championship game, and they ended up taking on Panama yet again.
The Japanese champions scored early and often against Panama on Saturday, backed by two home runs by their star player, Kotaro Kiyomiya. A strong four innings by Yuta Ishida propelled them to a 10-2 victory to clinch a berth into Sunday's title game.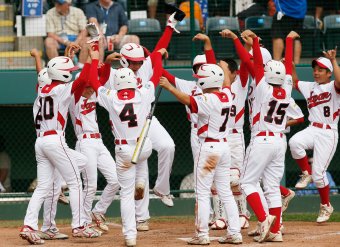 As great as the Japan offense has been, the pitching has been better.
They have used six pitchers who have combined for 50 strikeouts and just four walks in 27 innings of work. They've allowed just two earned runs in four games and those two came in their most recent matchup. Kiyomiya is expected to take the mound for Japan on Sunday since he hasn't thrown since their opener.
Tennessee
Tennessee's path to Sunday's championship game has been about as crazy as they come. They defeated the Mountain West 12-1 in their opening-round matchup and then took down California 9-6 in a wild game. A 4-3 victory over Texas gave them the opportunity to play for the United States championship on Sunday against California.
If you missed the United States championship game on Saturday, you missed the game of the year. Tennessee took leads, but continued to allow the West champions back into the game. They led California 15-5 going into the last of the sixth inning.
No problem, right? Wrong. California struck for 10 runs in the inning to send the game into extra innings.
Tennessee wouldn't pout about California's comeback, though, and they erupted for nine runs in the top of the seventh to take another commanding lead. The Southeast champions wouldn't allow another comeback as they would take the final 24-16.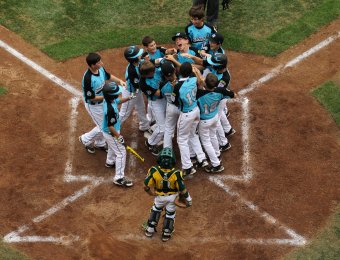 Tennessee clearly can hit, but will they be too tired from Saturday's ridiculous game? That's a major question going into Sunday and could be the reason that they don't win it all.
Who to Watch
Kotaro Kiyomiya, Japan
Kiyomiya is the reason that Japan has made it thus far. As I mentioned, he's a good pitcher, but an even better hitter. He is, or should be, the most feared hitter in the Japanese lineup. Every ball he hits seems to travel over the fence for a home run.
Kiyomiya has three home runs in the tournament, two coming against Panama in the international championship game. It would be well advised for the Tennessee pitchers to pitch around him come Sunday afternoon.
Brock Myers, Tennessee
Myers will be ineligible to pitch on Sunday, but he'll still be a force in the Tennessee batting order. Myers is a lean, mean home-run-hitting machine. He's homered in all four of his team's games in Williamsport.
Myers has been instrumental throughout Tennessee's run throughout the Little League World Series. He's batting over .600 and will have the opportunity to homer in five straight games on Sunday. He also is tied for the team lead in RBI with nine.
Championship Game Prediction
Japan defeats Tennessee
Tennessee is a great team, but Japan is a force to be reckoned with and I don't think that Tennessee really knows what to expect. The Southeast champions just played a very long game and it won't be long until they're on the field again taking on an even better team.
As I've mentioned, Kiyomiya hasn't pitched in a while and that could be because Japan has saved him for the tournament finale. He throws extremely hard and even though Tennessee has some quick bats, I'm hesitant to say that they'll be able to catch up.
Tennessee has poured on the runs lately, but that will end on Sunday when Kiyomiya takes the mound.
There's no reason to doubt the Japanese offense either. They only really struggled against the Chinese Taipei pitchers, but have since found their stroke. All of their players are good hitters and nearly all of them can hit the ball out of the park.
I have a feeling that Tennessee could get any early lead on Sunday, but Japan will be holding the "Little League World Series champions" flag when all is said and done.