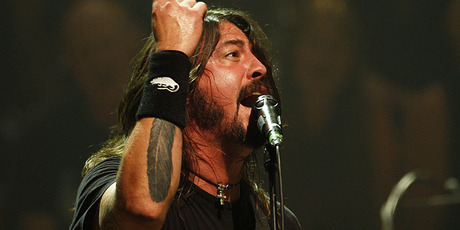 The band brought the three-day music event to an end on Sunday night after headlining at the festival's sister site in Leeds, England on Friday.
Ploughing through 26 tracks over two-and-a-half hours, Grohl announced that the performance would be the band's last for the near future.
"You guys realise we've got a lot of songs to play," he told the audience.
"It's the last show of the tour and it's the last show for a long time."
The frontman also took time to remember his former Nirvana bandmates, Krist Novoselic and the late Kurt Cobain, by dedicating hisThree Days song to them.
He added, "I'd like to dedicate this song to a couple of people who couldn't be here tonight. This one's for Krist and this one's for Kurt.''
Grohl then remembered when Nirvana played the festival 20 years earlier and how the crowd sang happy birthday to his mother - and brought her out onstage to relive the moment.
"In 1992 when Nirvana played here, the last show we ever played in England, you sang happy birthday to my mom. Here's your chance.''
Meanwhile, Kasabian closed Leeds festival with renditions of the Beatles'She Loves You and Fatboy Slim's Praise You, as well as paying tribute to late astronaut Neil Armstrong, who died on Saturday.